Dairy Show 2014
Welcome to Dairy Show 2014, planned to be hosted in Hyderabad, Andhra Pradesh. Andhra Pradesh is the second largest state in India in-terms of Animal Husbandry and Dairy development Business. Dairyshow is an exclusive display & conference on best practices involved in dairy development, advanced milk collection equipments, technology and financial schemes for Animal Husbandry as well as Dairy Businesses.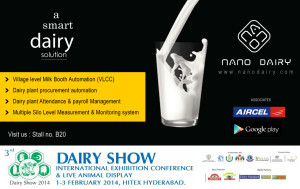 Dairy Show 2014, is supposed to be held in Hitex city, Hyderabad.  We Nano Dairy – A smart dairy solution will be residing at stall no. B20. We are advanced automation engineering team dedicated for dairy automation process. We start from Milk procurement section to dairy employee payroll management.
Our recent achievement in dairy automation industry is automating Village Level Milk booth collection (VLCC) using advanced technology android.
How can milk collection process in Village booth can be made ease?
Initially all the milk related parameters such as FAT, SNF and weight are received directly from its dedicated hardware's. (Weight scale, FAT analyzer etc). These hardware devices are bound together using our special hardware bridge. It almost binds up any FAT analyzer or weight scale. (ekomilk, lactoscan, essae weighing scale etc) There will be added facility to integrate a RF Id reception which points out the milk supplier exactly with unique ID. All these data data will be shown up in device and saved to the web server automatically there by making the milk collection process very simple and neat.
Advantages of Village Level Milk booth collection (VLCC) – Nano Android
Receive all parameters of Milk directly from the corresponding devices such as Weighing Scale (liters), RF ID(Customer) and Milk Analyzer(FAT and SNF)
The whole milk collection process is carried out through a simple android device or Tab
Send customized SMS to producer with required details such as FAT, SNF, Quantity, Rate etc.
Option to print the procurement receipt
Store & Send the milk collection details to main dairy plant though internet web server
Store the complete customer details including name, mobile, bank and other details in secured web server
All application data such as settings, procurement and producer details are automatically backed up in the Web server in order to facilitate easy recovery in case of data loss.
Customized rate chart which can be configured in the device or directly from the web server
Option to configure SMS and Print parameters in the device or directly from the web server
Provision to attach USB keyboard and mouse for easy operation
Low Cost State of Art product with high speed processor and memory
Integrate any third party weighing scale and analyzer. (ie) It can accommodate any make or brand weighing scale or Milk analyzer.
Just step into our stall or request a demo.